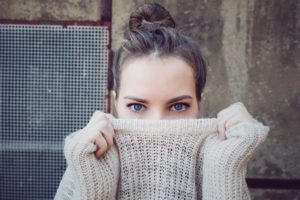 Fabrics that have been woven with stretchable material have different stretch-ability characteristics that allow it to stretch without breaking the fibers and return to its original size. Many manufacturers incorporate stretch to allow the fabric to fit to your shape or provide a more comfortable fit.
There are 2 broad types of stretchy material. The first one stretches in one direction (either lengthwise or crosswise) or the second kind that stretches in two directions at once (crosswise as well as lengthwise). A perfect example of one direction stretch is a t-shirt which stretches only one way. Athletic wear tends to be a stretch that moves in 2 different directions at once.
Stretchy fabrics are blended with other fabrics such as cotton, yarn or wool.
Here is a list of some of the most common stretchy materials:
Spandex – this super stretchy fabric stretches depending on its elastane (elastic) content. Most often it is used in a blend with other fabrics such as cotton, nylon, polyester, and rayon. Active wear and sports apparel use around 12-15% spandex whereas regular clothing typically uses 1-5% spandex content. One of the most well-known brands of spandex is Lycra – a spandex fabric trademarked by Dupont.
Knits -Most knits have some stretch, usually in one direction. These include jersey, double knit, rib knit, sweater knit, and several more.
Latex -Latex is made from rubber and is used to make stockings, gloves, bodysuits, and leotards, along with a few other specialty garments. It doesn't breath and can be uncomfortable.
Neoprene is also made from rubber and is used as an alternative to latex. Most often it is not used for clothing (think  of Halloween masks and laptop sleeves).
Each piece of clothing has a content label inside the garment. Take those jeans that fit you so perfectly and check the label to see the fabric content. The jeans you love so much are probably made with cotton and 2% spandex. The swimsuit you live in for summer is most likely made with Lyrca.
Take a few moments to note which clothes fit so well and what their fabric blends are. This can be a big help when looking at new styles and cuts.